Floor Plan
When you picture the perfect place to live, what do you see? Is it a century-old building filled with rich history snippets and stunning city views? Perhaps it's a cool mixed-use low-rise where you only have to go downstairs to shop and dine? Or maybe it is a modern, mid-rise with smartly designed layouts? We have them all at Walnut on Highland, in our smoke-free community of studio, one, two, and three-bedroom apartments for rent in Pittsburgh, PA.
Suite C (Highland Building)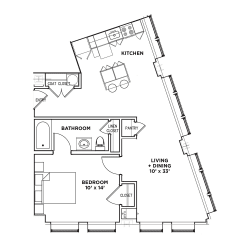 $1,912to-$2,352 / mo
Deposit: $500

East Liberty Apartments
Choose from a variety of unique floor plans in three different buildings stretching along an entire block on South Highland Avenue: Highland, Wallace, and The Penn. The Highland Building is the historic 13-floor high-rise built in the early 1900's. The Wallace consists of two stories of apartments above the restaurants and retail at the corner of South Highland and Centre Avenue. Lastly, The Penn is the newly constructed 6-floor addition above the restaurants and retail on the corner of South Highland and Penn Avenue.
Our East Liberty apartments come in all shapes and sizes. You can rent a 505-square-foot micro-suite, a spacious 1,525-square-foot unit, a 1,426-square-foot two-story apartment loft, and everything in between. All units have walk-in closets, while some also have linen, pantry, and coat closets, as well as patios or balconies. You'll love the premium amenities, such as hardwood flooring, high ceilings, expansive windows, granite countertops, and washer and dryer on each floor or in-unit.
Contact us to check the available units and come to see all the comfort you'll experience in our pet-friendly Pittsburgh apartments!
Map View